(V)owls is a collective of musicians, artists, and healers that offer a variety of donation based goods.
Please include a description of the product upon donation. Thank you so much!
MERCHANDISE GALLERY
"Is That the Little Dipper?" Original Album – Suggested Donation $5
Handmade Silkscreen T-Shirts – Suggested Donation $15 +$5 s/h
We have a WIDE VARIETY of shirts and tank tops with sizes that vary from Kids XS to Adult XL. If you are interested in our other varieties of tshirt shoot us a message !
"Rainbow Connection" Tote Bags – Suggested Donation $10 +$3 s/h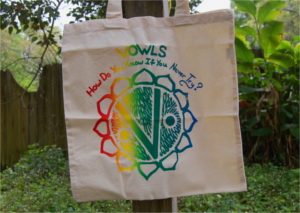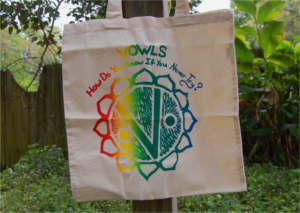 12″ 100%  Cotton Tote Bag for all of your toting needs.
Hand Dyed Bandanas – Suggested Donation $5 +$2 s/h

We went overboard with our varieties of tie dyed bandanas and these are the most common styles we have. All of our dyes are unique and beautiful and we cannot guarantee that you will get the specific bandana featured. Upon clicking our donate button please be descriptive as to which colors/color scheme you prefer and we will do our best to match your preferences.
Art Stickers – Suggested Donation $4 + $1 s/h
Bundle Up with VOWLS Merch – Suggested Donation $25 + $5 s/h
Enjoy a sweet Merch Bundle that includes our album, "Is That the Little Dipper?" a T-shirt of your choice, a bandana of your choice, and one of our art stickers. When filling out the description after clicking the donate button please remember to include details about your shirt preferences and bandana preferences.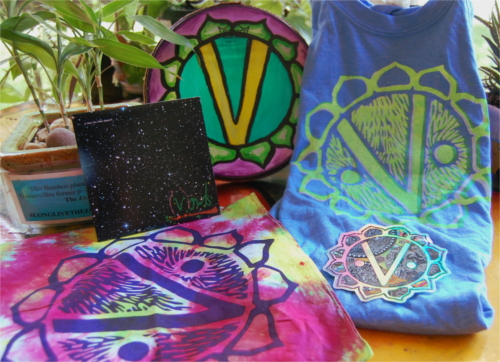 All of our merchandise was made by US with love!
If you have any comments, questions, or feedback feel free to reach out to us leaving a comment on this page.