On Saturday February 23rd 2019 we took the stage at the Acrosstown Repertory Theater for Heartwood Music Festival. We are so grateful to be a part of this event and to perform on the A.R.T.'s stage again. We hope to make another appearance next year.
We had our very best MC LBX lay down some sweet rhymes during "Bliss" and "Slips Away." Tristan, king of the drums, driving the train, held down our swampy swingy rhythms with outstanding grace, while Sweet Irene laid down the truth with her saxophone and ethereal harmonies. Caitlyn Vinci, leader of the band, queen of the banjolele, carried us home with her soulful powerhouse of a voice, while Amy Cecilia came in with her delicate harmonies and bright, sparkly guitar riffs. Tying the whole symphony of sound together with the thumpiest and most melodic of bass lines we have Russ Tyndall, bassman extraordinaire, binding us together into the magnificent arrangement that we call VOWLS.
Set List:
Foggy
Slips Away
Twilight
Bliss
That Song
Mr. Owl
Encore: You Can't Hide What's Inside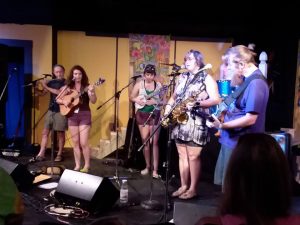 Thanks again to Heartwood Soundstage and everyone that participated and that volunteered their time. We love you!