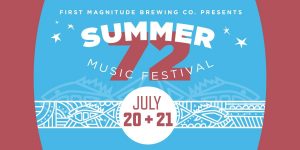 We are very excited to announce that we will be a part of the Summer 72 Lineup. We are playing Saturday July 21st at 6:15pm. You can purchase tickets early at Eventbrite.
"First Magnitude Brewing Company, Rum 138, Locochino, and Lively Up Entertainment have come together to bring a summer surprise to the Santa Fe River. Bring your bathing suit, bring your dancing feet, bring your tent: Summer 72 lands on the weekend of July 20th to fill two days and two nights with music, art, water, and friends.
Mayflower Cellars, Endless Summer Ice Cream, and Rum 138 will have prepared food available for sale. Outside food and beverages may be brought to the festival. First Magnitude beer – including special releases will be available at Rum 138 as well!"
We have been working hard on performing new songs, creating merchandise, and working on our stage art and presence to deliver a one of a kind VOWLS experience during our set. So look out for us and all the other great bands we have the honor of sharing a lineup with (Zach Deputy & Consider the Source) and we hope to see you there!